Enemy Engaged 2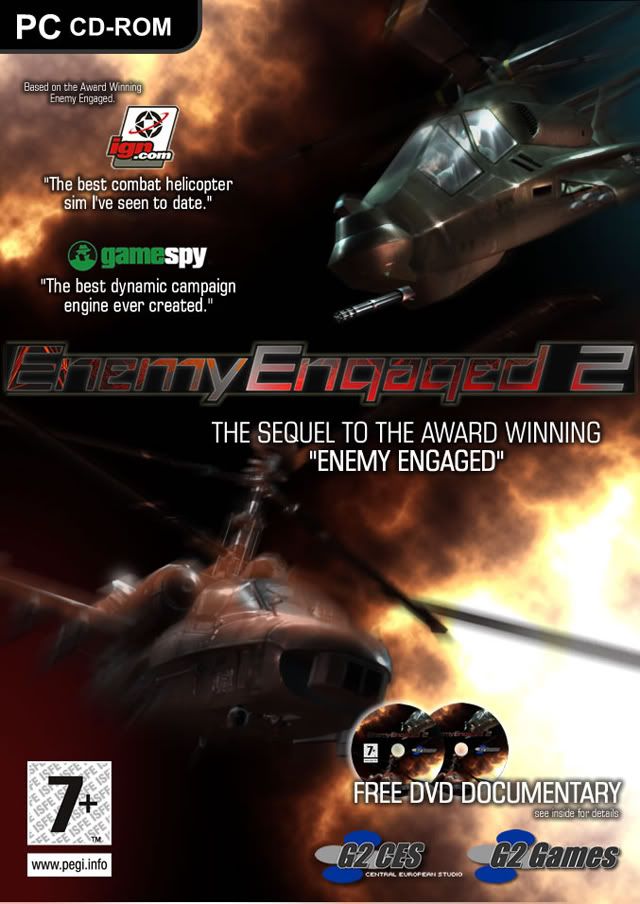 Enemy Engaged 2
is the sequel to the best selling chopper classic - Enemy Engaged: RAH-66 Comanche Versus Ka-52 Hokum.A game that received universal praise for its dynamic and ground breaking content that maintains a large player base even today.
Released in 2000, the original Enemy Engaged set the standard for 21st century flight sims with stunningly realistic visuals and attention to detail. Enemy Engaged 2 is set to take the series even further with new dynamic missions and a complete overhaul of the graphics and audio to bring the game up to date with the latest and best flight simulations available.
Features
* Modern helicopter combat simulation with realistic flight physics.
* Three exciting theaters of war with two opposing campaigns each.
* Dynamic real-time battlefields. No linear mission plot or predefined unit behavior.
* Over 30,000 square kilometers of flying area over Lebanon, Taiwan and Korea.
* Diverse combat environments executed in lush 3D detail under a wide range of weather conditions.
* Over 1,200 very detailed and blue-print precise vehicles, chosen from among proven classics in actual use in armed forces around the globe.
* Use immersive voice control to command your gunner and wingman
Hardware Requirements
* Graphics card with 2.0 shaders and 128 MB of RAM (such as nVidia GF5200 or ATI Radeon 9550)
* AMD 1700+ or Intel 2 GHz CPU
* 512 MB RAM
Recommended
* Graphics card with 2.0 shaders and 256 MB of RAM (such as nVidia 6800 or ATI X800)
* AMD64 or Intel P4 3 GHz CPU
* 1 GB RAM
Website
Screenshots

Enemy Engaged 2 Trailer


Release Date:
25 May 2007
Genre:
Simulator